Jacob Weisman is the editor and publisher at Tachyon Publications, which he founded in 1995. He has been nominated for the World Fantasy Award three times for his work at Tachyon and is the series editor of Tachyon's Hugo, Nebula, Sturgeon, and Shirley Jackson Award-winning novella line. His writing has appeared in The Nation, Realms of Fantasy, the Louisville Courier-Journal, The Seattle Weekly, and The Cooper Point Journal. Jacob is rumored to be hard at work on his first novel.
Jill Roberts has been Tachyon's managing editor since 2002. Her publishing career followed non-linear employment within the gaming, fashion, and health industries. Jill has been a columnist for Books to Watch Out For and the Thirteenth Moon, as well as a consulting editor at the nonprofit writing program Streetside Stories. Her literary tastes include prose-driven genre fiction with feminist, near-future, international, cross-cultural, biological, and sociological elements. Jill is currently editing her first novel, but please don't ask her about it until it's perfect.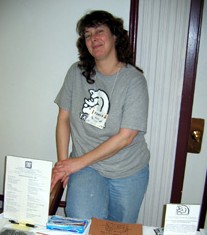 Rina Weisman's invaluable although often unsolicited help has truly helped Tachyon Publications grow. Rina spends her spare time reading books borrowed from Jacob and has coined the verb "Brodarting." She knows how to make a clamshell box, measure footcandles, prefers the original Star Trek, and has been known to hum "Thus Spake Zarathrustra" when she thinks no one is listening. She runs the popular SF in SF reading series and movie nights, and she is otherwise unsuited for a normal, 9–5 life. Rina is currently proofreading everyone's first novel.
Elizabeth Story is Tachyon's Lead Designer. She began as an intern for Tachyon in September of 2009. Since that time, Elizabeth has designed book covers and interiors, press kits, and Tachyon's catalog, and she has staffed Tachyon's book tables. She graduated with honors from the Creative Writing department at UC Santa Cruz and is currently working on an M.F.A. Her past work experience includes creating motivational posters, newsletters, and comic strips for a children's tutoring center; editing a campus literary magazine; and assisting in a perfumery. Elizabeth locked her first novel in a drawer because it tried to bite her.
Rick Klaw
don
s many caps when not serving as Tachyon's resident Social Media Maven, including editor, pop culture historian, reviewer, and optimistic curmudgeon. He was the co-editor of the groundbreaking original anthology of short fiction in graphic form, 
Weird Business,
 co-founder of Mojo Press, and runs the award-winning blog,
The Geek Curmudgeon
. His recent anthologies are 
The Apes of Wrath
 and 
Rayguns Over Texas.
Rick gave up on his first novel when he realized it had to be longer than 140 characters.
James DeMaiolo has worked in the book business for the last thirty years. He brings his extensive experience in sales, marketing, and publicity to Tachyon. Jim has been a retail bookseller, a book buyer for Barnes and Noble, and an associate editor. He has worked with Simon and Schuster and Henry Holt and as a freelancer for such publishers as Berkeley, Tor, and Applause Books. Unlike the rest of us, Jim is a published playwright and has recently edited his first book, a collection of essays on the Federal Theatre Project and a Living Newspaper scenario, The Thrill of Finding Money. Jim has already finished and is revising his first seventeen novels.
Rachel Fag
undes is Tachyon's Associate Editor. She began as an intern at Tachyon in July 2011. Rachel graduated from the University of California, Santa Cruz, with a BA in literature and a minor in history. Her senior year, she designed and taught an undergraduate lit class at UCSC on ethics and social justice in the Harry Potter novels. She has also previously worked at the American embassy in Belgium, volunteered at the Exploratorium, and interned at Locus. Rachel is fond of comic books, fantasy novels, moussaka, and the Italian Renaissance. She will start working on her first novel any day now. Really.
Bernie Goodman
 is in charge of long-range planning at Tachyon. Insanity and a belief that he knows the future far better than the rest of us have convinced him that he alone knows what's best for Tachyon Publications. Is he a delusional time traveler or merely crazy? Time will tell. There are rumors that his first novel was published in 1935, more than thirty years before his birth, in a private edition limited to eight hand-bound copies. No known copies have yet been found.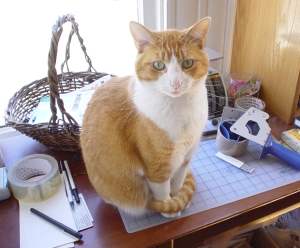 Clyde filled the most important role at Tachyon Publications: reminding us of the foolishness of our own vanity. We're not sure whether Clyde had begun work yet on his first novel, but he did receive honorable mention in The Writers of the Future contest and was repeatedly spotted walking purposefully on the keyboards at the Tachyon home offices. (Since his passing in June of 2016, we are not certain who is in charge of cuteness and loud meowing at Tachyon HQ.)
Koufax was the official Tachyon Publications security system. A tad overprotective, Koufax was known to accost the postman who brought by any unsolicited manuscripts. Koufax had completed working on his first novel and was weighing several offers from major publishing houses. He passed away after a long, wonderful life. We miss him.