One of genre fiction's most acclaimed editors, Ellen Datlow first rose to prominence as the fiction editor of Omni, where she helped usher in the cyberpunk movement and published works by William Gibson, Bruce Sterling, Connie Willis, Nancy Kress, Gregory Benford, Michael Bishop, Howard Waldrop, and many others. Following the magazine's demise in 1997, Datlow assumed the same role for the online Event Horizon. After that site's closing, she moved in 2000 with a similar role to Sci Fiction, the freshly created online venue from the Sci Fi Channel (now Syfy). She stayed there until the site's shuttering in 2005. Since 2013, Datlow has been with Tor.com, where she edited work by Jeffrey Ford, Stephen Graham Jones, Victor LaValle, Kelly Robson, and others.
Beginning with The First Omni Book of Science Fiction (1984), Datlow has edited over 75 anthologies including 12 collections of Omni fiction, 21 annual volumes of The Year's Best Fantasy (1988-89; then as …& Horror 1999-2008; Vols. 1-16 with Terri Windling and 17-21 with Gavin J. Grant and Kelly Link), and beginning in 2009, fourteen annual volumes of The Best Horror of The Year, which lead to The Best of the Best Horror of the Year: 10 Years of Essential Short Horror Fiction (2018). Her first non-Omni related anthology Blood Is Not Enough (1988) began Datlow's long association with horror, which eventually led to Publisher's Weekly referring to her as "horror anthologist extraordinaire."

The Year's Best Fantasy: First Annual Collection (1989) garnered Datlow her first of 10 World Fantasy Awards. The other nine came from The Year's Best Fantasy Second (1990) and Fourth (1992) Annual Collections, Little Deaths (1995), editor (Special Award, Professional 1995), Silver Birch, Blood Moon (2000), The Green Man: Tales from the Mythic Forest (2003), Salon Fantastique: Fifteen Original Tales of Fantasy (2007), Inferno: New Tales of Terror and the Supernatural (2008), and Life Achievement (2014). She has also won nine Hugo (Best Professional Editor [2002], Sci Fiction [2005], Best Editor Short Form [2009, 2010, 2014, 2016, 2017, 2020, 2021]), seven Stoker (The Year's Best Fantasy & Horror: Thirteenth [2000] and Seventeenth [2004] Annual Collections, Haunted Legends [2010], Lifetime Achievement [2010], Fearful Symmetries [2014], The Devil and the Deep: Horror Stories of the Sea [2018], and When Things Get Dark: Stories Inspired by Shirley Jackson [2021]), four British Fantasy Awards (Karl Edward Wagner Award [2007], The Year's Best Fantasy & Horror: Nineteenth Annual Collection [2007], The Doll Collection [2016], and Tor.Com [2017]), and three Shirley Jackson (Inferno: New Tales of Terror and the Supernatural [2008], Poe [2010], and Fearful Symmetries [2015]) awards.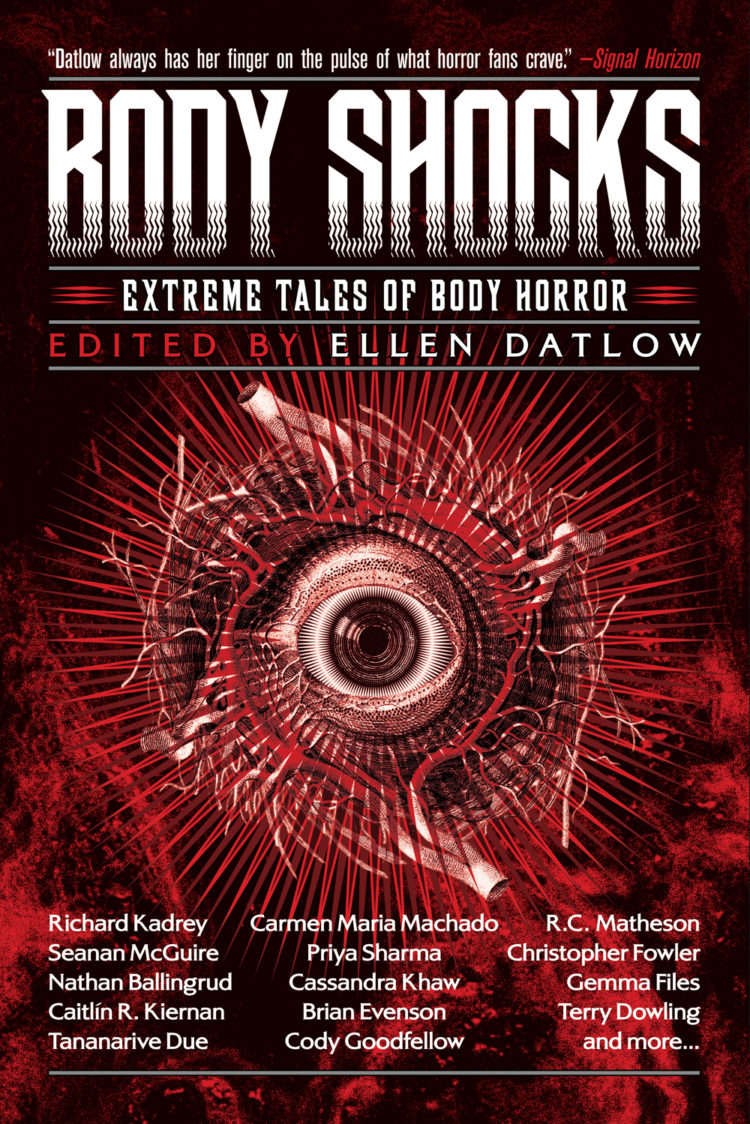 Other notable books include Alien Sex (1990), Snow White, Blood Red (1993 w Terri Windling), Vanishing Acts (2000), Lovecraft Unbound: Twenty Stories (2009), DARKNESS: TWO DECADES OF MODERN HORROR (2010), Naked City: Tales of Urban Fantasy (2011), Blood and other Cravings (2011), After: Nineteen Stories of Apocalypse and Dystopia (2012 w Terri Windling), HAUNTINGS (2013), LOVECRAFT'S MONSTERS (2014), THE CUTTING ROOM: DARK REFLECTIONS OF THE SILVER SCREEN (2014), THE MONSTROUS (2015), Children of Lovecraft (2016), NIGHTMARES: A NEW DECADE OF MODERN HORROR (2016), Mad Hatters and March Hares (2017), Echoes (2019), Final Cuts: New Tales of Hollywood Horror and Other Spectacles (2020), Edited by (2020), BODY SHOCKS: EXTREME TALES OF BODY HORROR (2021), and Screams from the Dark: 29 Tales of Monsters and the Monstrous (2022).
All of us at Tachyon, wish the extraordinary Ellen a happy birthday and as always, we look forward to whatever is next.