Born in Kingston, Jamaica, the acclaimed Nalo Hopkinson spent her childhood in Trinidad and Guyana before her family moved to Toronto when she was sixteen. Her groundbreaking science fiction and fantasy, noted for diverse characters and the mixture of folklore, include the novels Brown Girl in the Ring (1998), Midnight Robber (2000), The Salt Roads (2003), The New Moon's Arms (2007), The Chaos (2012), and Sister Mine (2013). Hopkinson's shorter workers has been collected in Skin Folk (2001), Report from Planet Midnight (2012), and FALLING IN LOVE WITH HOMINIDS (2015). She wrote 22 issues of House of Whispers, a comic book series set in Neil Gaiman's Sandman Universe. The series was collected in The House of Whispers Vol. 1: Power Divided (2019), The House of Whispers Vol. 2: Ananse (2020), and House of Whispers Vol. 3: Watching the Watchers (2020).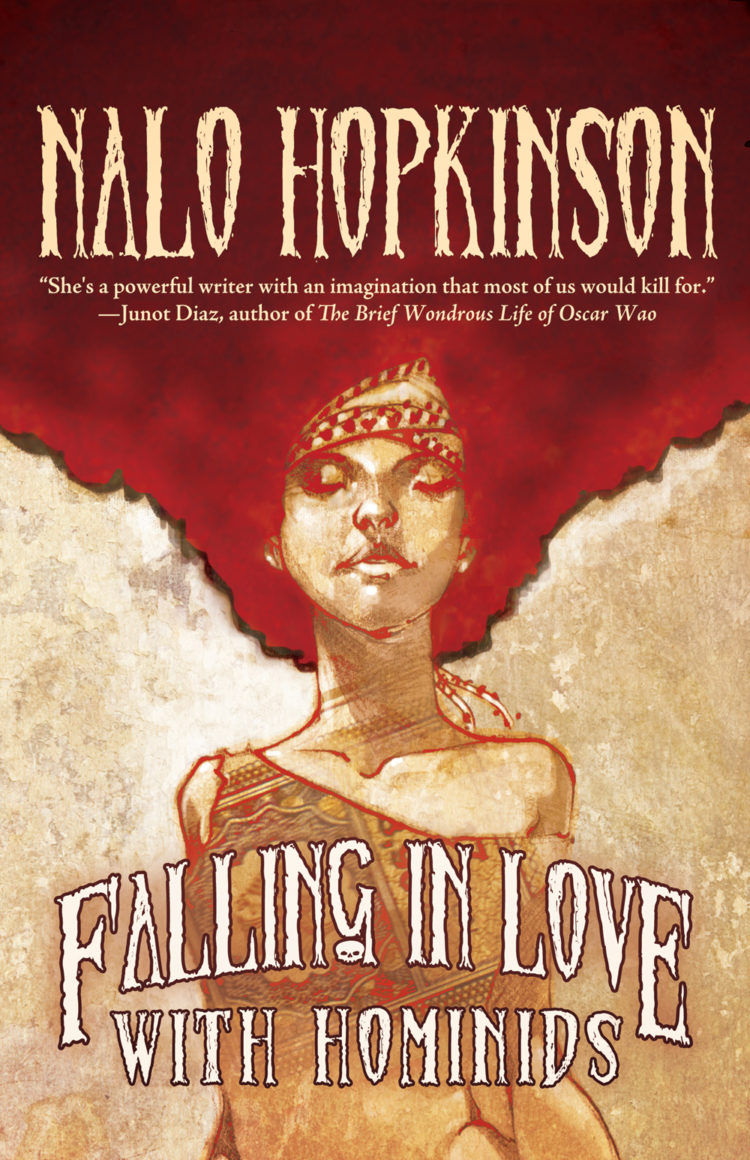 As an editor, Hopkinson has worked on many publications including Whispers from the Cotton Tree Root: Caribbean Fabulist Fiction (2000), Mojo: Conjure Stories (2003), So Long Been Dreaming (with Uppinder Mehan; 2004), Tesseracts 9 (with Geoff Ryman; 2005), People of Colo(U)R Destroy Science Fiction! (with Kristine Ong Muslim; 2016), and Particulates (2018).
Beginning with her first novel Brown Girl in the Ring winning the Warner Aspect First Novel contest, Hopkinson has garnered numerous awards. Brown Girl also won a 1999 Locus Award and that same year, the author herself won the John W. Campbell Award for Best New Writer. Her second novel Midnight Robber was a 2000 New York Times Notable Book of the Year. Skin Folk won the 2003 World Fantasy and Sunburst Awards as well as 2004 Gaylactic Spectrum Award (for GLBTQ themes in science fiction and fantasy). The New Moon's Arms received the 2008 Sunburst and Prix Aurora Awards. Hopkinson's superior editing skills were acknowledged with the 2006 Prix Aurora Award for Tesseracts 9 and a British Fantasy Award for People of Colo(U)R Destroy Science Fiction! Her short story "Broad Duffy Water" (2021) won the Theodore Sturgeon Memorial Award. In 2016, she received an Honorary Doctor of Letters from Anglia Ruskin University. Hopkinson was named the 2021 SFWA Damon Knight Grand Master.
The movie Brown Girl Begins, directed and written by Sharon Lewis, serves as a prequel to Brown Girl in the Ring. The acclaimed film garnered several awards including IndieFEST Film Award and Houston Black Film Festival Prize.
All of us at Tachyon wish the extraordinary Nalo Hopkinson a happy birthday. May those incredible and insightful folktales keep flowing!