As Halloween draws near, the 2021 Astrid Lindgren Memorial Award candidate Jane Yolen's scary THE MIDNIGHT CIRCUS continues to impress.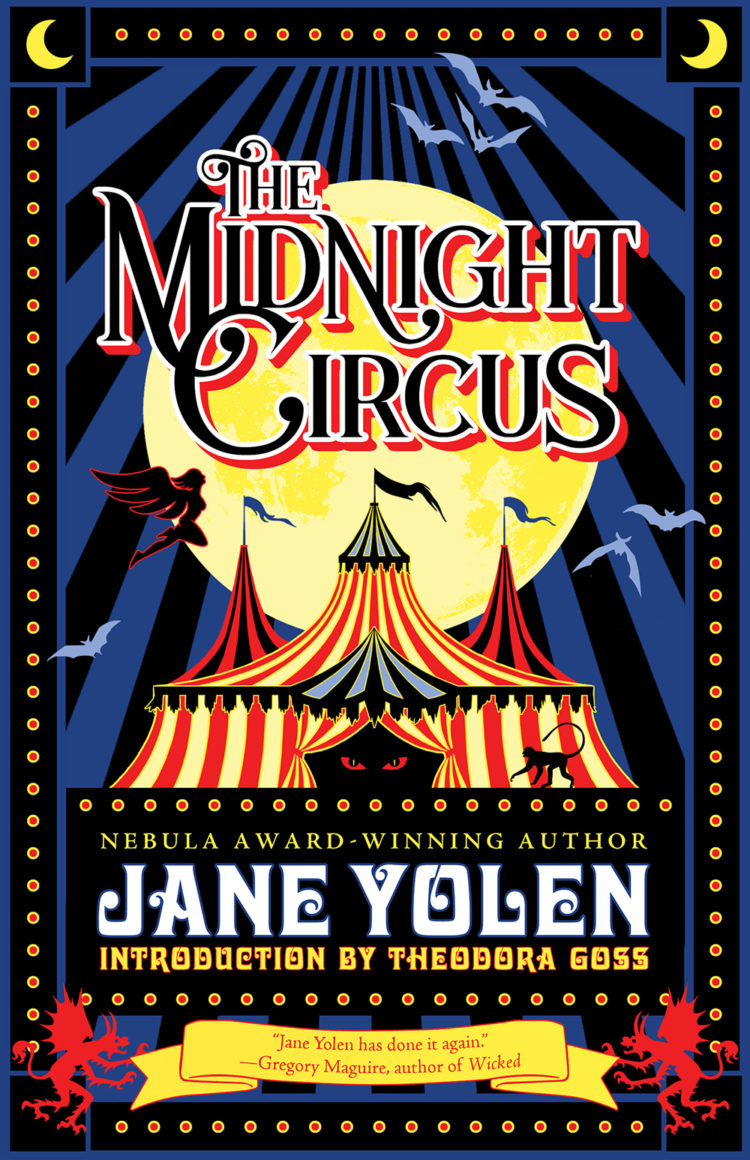 For WASHINGTON INDEPENDENT REVIEW OF BOOKS, Tara Campbell enjoys the collection.
Yolen is often dubbed "the Hans Christian Andersen of America," but that should not be misunderstood. Her work is not Andersen Americanized: sanitized, watered-down, Disney-fied. It is true to the real tradition of Andersen: mesmerizing, haunting, and often not for the faint of heart.

This collection teems with Yolen's weird, folkloric verve. Her menagerie of stories is distilled from a cauldron of fairytales, legends, and history, featuring everything from selkies to shapeshifters; witches, weavers, and warriors; and angels murderous to ravenous. Her foreword and endnotes offer additional context for the work, creating a satisfying — if often unsettling — reading experience.
Jacob Olson at REALMS & ROBOTS agrees.
Of her most recent collection of stories, THE MIDNIGHT CIRCUS, I can say that her storytelling ability remains stronger than ever. It's a wonderful collection of little tales that both enchant and teach valuable lessons with each conclusion.

[…]

Overall, I'm as impressed with THE MIDNIGHT CIRCUS as I expected to be. Seeing a writer continue to perfect their form is always exciting, and with Yolen, you know you'll be thrust into worlds known and unknown, leaving the pages a little wiser and a bit further removed from the humdrum happenings of real life.
ENFNTS TERRIBLES recommends the book.
THE MIDNIGHT CIRCUS is a collection of dark, haunting tales. These sixteen short stories, each accompanied by a poem, are all very different from each other, for instance, in one story the South Pole becomes hell on earth, in another, The Red Sea becomes deadly due to a plague of evil angels. Some stories are scarier than others, but all are wicked and creative.
As does ADJECTIVE+NOUN.
One thing that really brought this collection of stories to life was the commentary at the end from Jane Yolen about when each story was published or written, with a poem as accompaniment. I almost wish these snippets had been included after each story, however, while the details were still fresh in my mind. Nevertheless, they were enjoyable, and it was fun to learn the inspiration behind each story.

Fans of Jane Yolen's work will likely find plenty to enjoy in this anthology, and I'd also recommend it to fans of horror, fairytales or folklore.
CAPTAIN'S QUARTERS praises the work.
I have always loved reading Jane Yolen's novels but as I have gotten older I have loved her short stories just as much. I have read all four of the Tachyon Publications of Jane Yolen's works and I love them. This fifth one deals with dark themes though the book is set up along the lines of her previous collection, THE EMERALD CIRCUS, which dealt with fairytales.

This collection has 16 varied tales. Like any collection, I liked some better than others. I also very much enjoyed Yolen's "Story Notes and Poems" at the end of the book which gives background on the short stories in the collection.
BEAS AND BOOKS feels much the same.
I recommend this if you love reading short stories, especially, fairytales and folklore but I warn you, it gets dark.
Through INSTAGRAM, Theodora Goss, who penned the introduction to THE MIDNIGHT CIRCUS, expresses her thoughts on the book.
It was such an honor to write the introduction for Jane Yolen's THE MIDNIGHT CIRCUS. Do pick up this book . . . It's filled with Jane's dark magic (she also has bright magic, sharp magic, dinosaur magic, all sorts of magic). 🙂 Just out from Tachyon!