Award-wining writer Joe R. Lansdale will be at the Texas Book Festival, November 5-6 in Austin, TX.
The Texas Book Festival (TBF) began with a simple purpose: to bring authors and readers together in a celebration of literature and literacy. Founded in 1995 by Laura Bush (a former librarian and then First Lady of Texas), Mary Margaret Farabee, and a dedicated group of volunteers, the TBF set out to honor Texas authors, promote the joys of reading, and benefit the state's public libraries. The first Festival took place in November 1996 and is now one of the nation's premier annual literary events, featuring 300 authors of the year's best books and drawing 50,000 book lovers.

Held each fall in and around the majestic State Capitol in downtown Austin, the annual Festival Weekend features a rich variety of author presentations and panels, book signings, cooking demonstrations, programs and activities for kids of all ages, food trucks, and exhibiting vendors from across the state and country. More than 50 volunteer committee chairs and 1000 volunteers help make the annual Festival possible. While remaining an important showcase for Texas authors, the Texas Book Festival hosts writers from all over the world and is honored to have a national reputation as one of the most prestigious and longest running book festivals in the country.

Texas Book Festival History
Lansdale will be participating in some of the many Festival events.
Saturday, November 5
12:15 PM
The Long of It: Enduring Texas Crime Series Fiction
Both set in Texas and centered on established characters, Traitor's Dance by three-time Edgar Award nominee and New York Times bestselling author Jeff Abbott and Born for Trouble by Edgar- and Stoker Award–winning bestselling author Joe R. Lansdale continue the stories of protagonists trying to lead normal lives but who find themselves back in the orbit of hunting for clues and tracking down wrongdoers. Join Abbott and Lansdale for a discussion of enduring series characters and stories.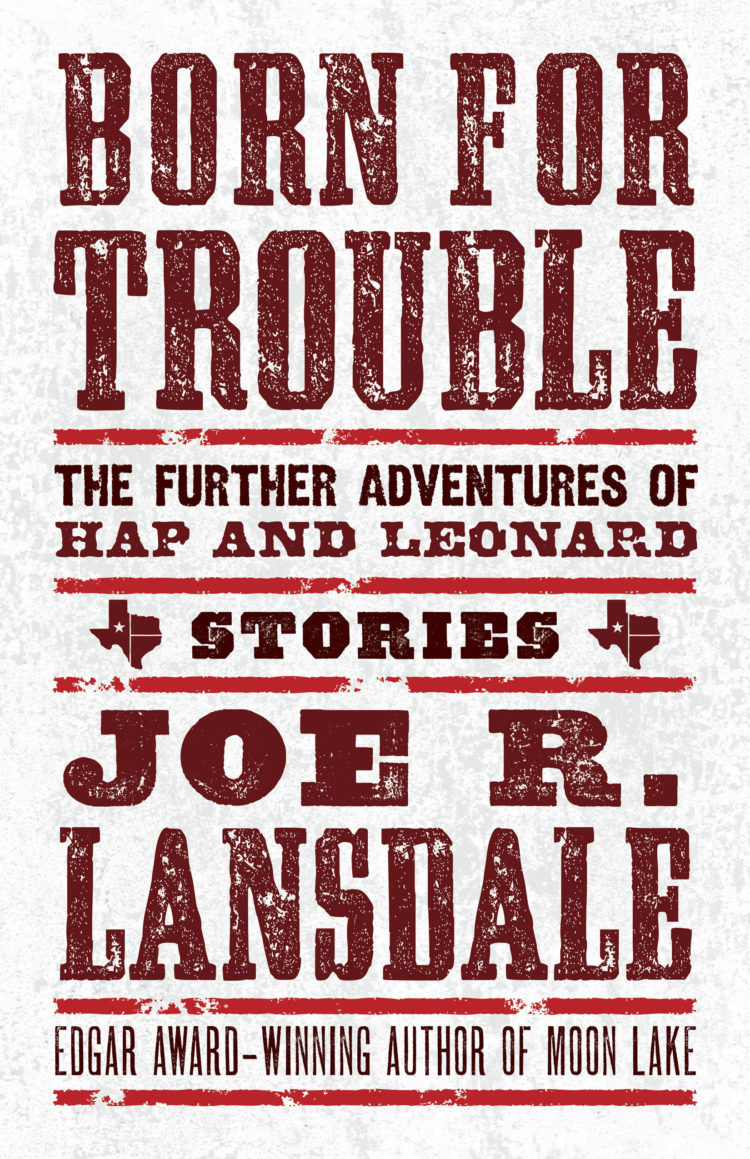 4 PM
A lot of intrigue is afoot in East Texas in these latest novels from Texas authors May Cobb, Joey Hartstone, and Joe Lansdale. In Cobb's My Summer Darlings, three life-long friends' worlds turn upside down when a mysterious and charming stranger shows up, but things must be too good to be true. In Hartstone's The Local, a small-town attorney must dig uncover secrets and wade bad blood in order to learn the truth about the murder of a long-time mentor. In Joe Lansdale's Born for Trouble, life seems to be settling down for beloved series characters Hap Collins and Leonard Pine, but as it turns out there's more crime-solving adventures and thrills to be had.