In celebration of the release of THE MIDNIGHT CIRCUS by Jane Yolen, Tachyon presents glimpses from the book that "will haunt you in the very best way." (Sarah Beth Durst, author of Race the Sands)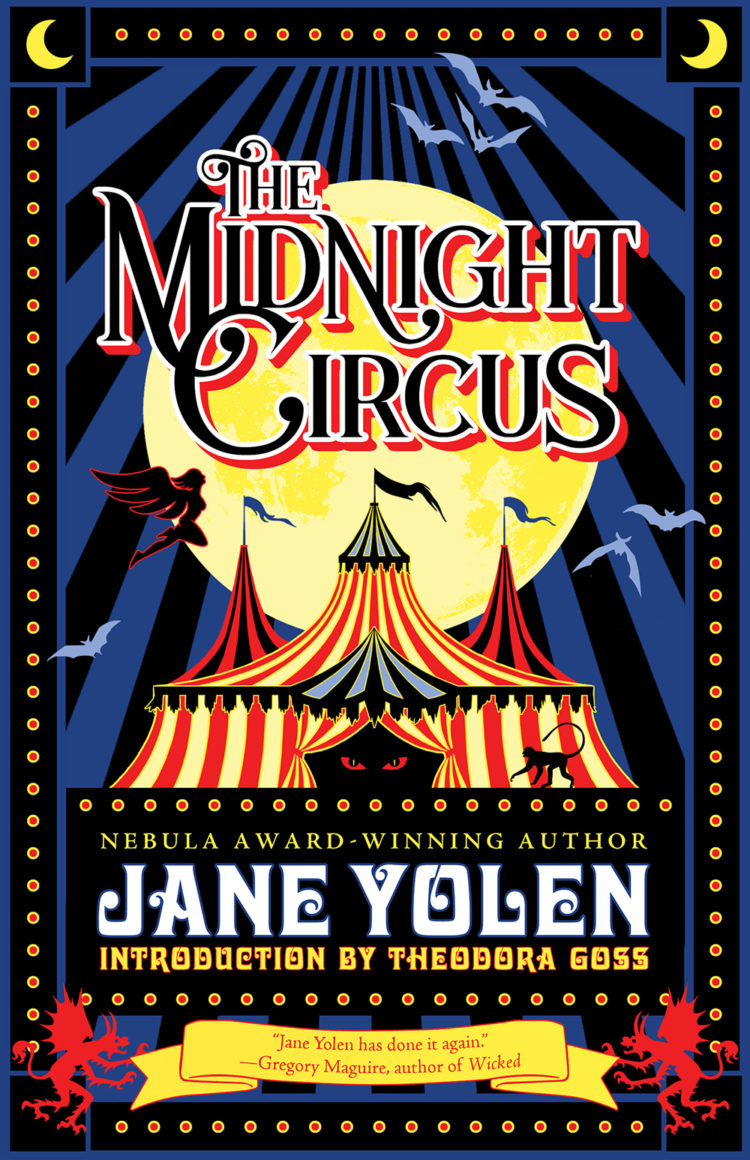 Little Red
by
Jane Yolen and Adam Stemple
Seven years of bad luck. That's what I think as I drag the piece of broken mirror over my forearm. Just to the right of a long blue vein, tracing the thin scars that came before.

There's no pain. That's all on the inside. It won't come no matter how much I bleed. No pain. But for a moment . . .

Relief.

For a moment.

Until Mr. L calls me again. "Hey, you, Little Red, come here."

Calls me. Not any of the other girls. Maybe it's because he likes my stubby red hair. Likes to twist his stubby old-man fingers in it. And I can't tell him no.

"You want to go back home?" he asks. "Back to your grandmother's? Back to the old sewing lady?" He's read my file. He knows what I will say.

"No. Even you are better than that." Then I don't say anything else. I just go away for a bit in my mind and leave him my body.

The forest is dark but I know the way. I have been here before. There is a path soon, pebbly and worn. But my fingers and toes are like needles and pins. If I stay here, stray here too long, will I become one of them forever?

It's morning now, and I'm back, looking for something sharp. Orderlies have cleaned up the mirror; I think Mr. L found the piece I had hidden under the mattress. It doesn't matter—I can always find something. Paper clips stolen from the office, plastic silverware cracked just right, even a ragged fingernail can break the skin if you have the courage.

Alby faces the wall and traces imaginary coastlines on the white cement. She is dark and elfin, her hair shorn brutally close to her scalp except for one long tress that hangs behind her left ear. "Why do you wind him up like that?"

"Wind up who?" My voice is rough with disuse. Is it the next morning? Or have days passed? "And how?"

"Mr. L. The things you say to him . . ." Shuddering, Alby looks more wet terrier than girl. "If you'd just walk the line, I'm sure he'd leave you alone."

Having no memory of speaking to Mr. L at all, I just shrug. "Walk the line. Walk the path. What's the difference?"

"Promise?"

"Okay."

"Yeah, play the game, let them think you're getting better." Alby straightens up, picturing home, I figure. She's got one to go back to. Wooden fence. Two-car garage. Mom and dad and a bowl full of breakfast cereal. No grandma making lemonade on a cold Sunday evening. No needles. No pins.

It's my turn to shudder. "I don't want to get better. They might send me home."

Alby stares at me. She has no answer to that. I turn to the bed. Start picking at the mattress, wondering if there are springs inside these old things. Alby faces the wall, her finger already winding a new path through the cracks. We all pass the time in our own way.