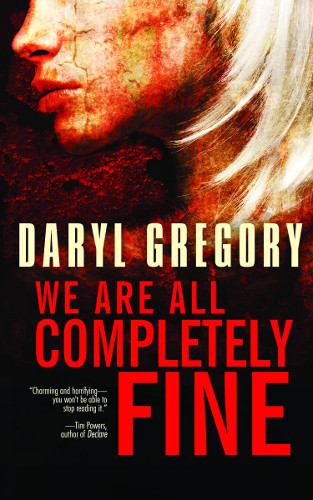 Though initially underwhelmed, Daryl Gregory's We Are All Completely Fine finally won over Meghan Duff at Don't Fear the Ink.  
This book was listed as Sci-Fi/Fantasy. The story was more supernatural and monster-oriented. As my students know, when serial killers or psychopaths come up, I'm usually on to something else. Psychology students these days seem way too interested in psychopathy and serial killers. I was done after Silence of the Lambs (when the movie based on Thomas Harris' book came out.) All the forensic work I did was with kids and adolescents and was generally basic risk assessments, but no where near the stuff on TV that inspires undergrads to want to be a "forensic psychologist". The line between psychopathic, serial killer humans and more malevolent, supernatural sadistic monsters is debatable, but I avoid the crime/mystery/thrillers stories and am fine with the more sci-fi versions. I wasn't initially sure how far these characters veer in that direction. However, once We Are All Completely Fine Here took off, I didn't care. It was a lot of fun. The characters didn't do a whole lot of storming, but they definitely ended up performing… though I do have a few questions about professional ethics and boundary issues, but maybe that comes with dealing with forces from other dimensions?
For information on We Are All Completely Fine, visit the Tachyon page.
Cover design by Elizabeth Story.