With the help of the fine folks at GOODREADS, we're giving away award-wInning editor Ellen Datlow's shockingly good BODY SHOCKS.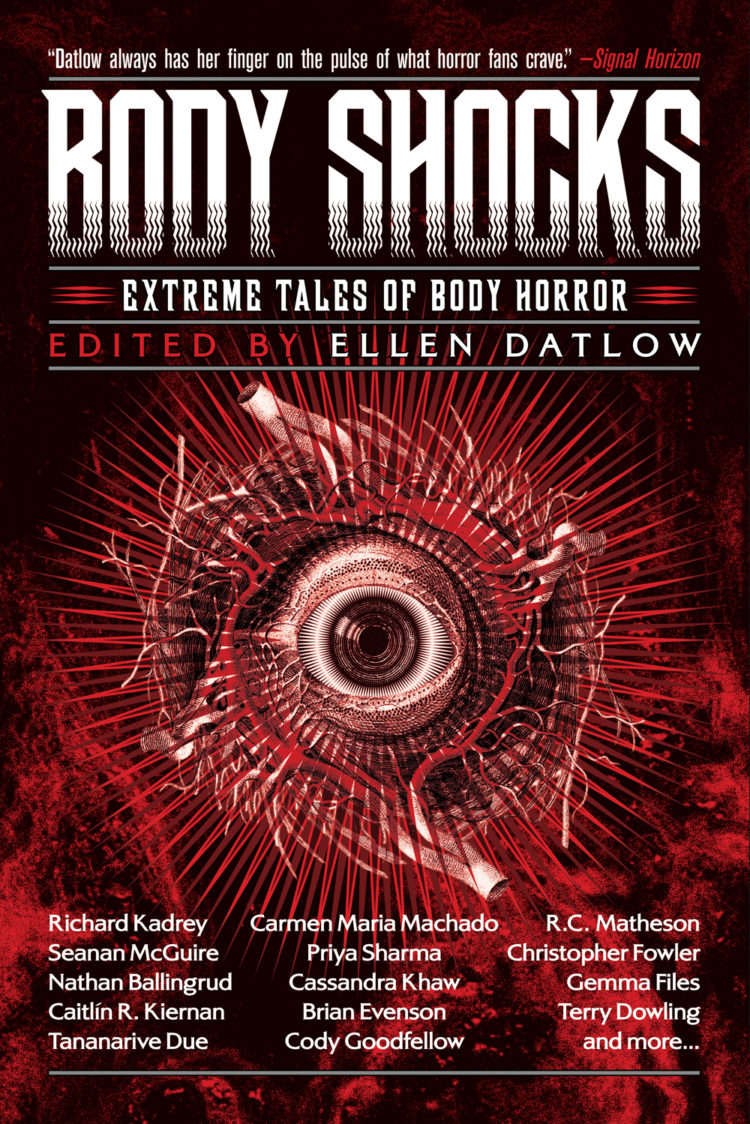 [STARRED REVIEW] "Hugo Award–winning editor Datlow (Edited By) brings together 29 spine-tingling tales of body horror to terrify even the most seasoned horror reader. These visceral works take myriad approaches to the genre, but all revel in the grotesque possibilities of the human body. 'The Old Women Who Were Skinned' by Carmen Maria Machado is an eerie, cautionary fable about the pitfalls of vanity. Terry Dowling's stomach-churning 'Toother' follows the grim exploits of a serial killer who collects the teeth of his victims. The woman in Kirstyn McDermott's 'Painlessness' feels no pain when injured and makes her living giving men an outlet for their violent fantasies. In 'The Lake' by Tananarive Due, a woman metamorphoses into a predatory sea creature. A confectioner transforms his fiancée's ghost into delectable treats enjoyed by the Parisian elite in Lisa L. Hannett's grossly gluttonous and deliciously weird 'Sweet Subtleties.' Cassandra Khaw's intense 'The Truth that Lies Under Skin and Meat' follows a werewolf who takes distinct pleasure in devouring her victims, much to the dismay of her handler. And Simon Bestwick's bizarre alternate history 'Welcome to Mengele's' takes readers into a Nazi doctor's movie theater where patrons watch their sickest fantasies play out on screen. These wholly original and truly chilling tales are not for the faint of heart."

—Publishers Weekly
Bestselling editor Ellen Datlow (Lovecraft's Monsters) presents body horror at its most wide-ranging and shocking best. Discover twenty-nine intricate, twisted tales of the human body, soul, and psyche, as told by storytelling legends including Carmen Maria Machado, Richard Kadrey, Seanan McGuire, Caitlín R. Kiernan, Nathan Ballingrud, Tananarive Due, Cassandra Khaw, Christopher Fowler, and many more.
[STARRED REVIEW] "The stories in the latest collection edited by horror veteran Datlow run the gamut from ethereal creepiness ('La beauté sans vertu,' by Genevieve Valentine), to haunt-your-dreams gross-outs ('Welcome to Mengele's,' by Simon Bestwick). One has even been made into an episode of Hulu's series Monsterland ('You Go Where It Takes You,' by Nathan Ballingrud). There are some absolutely stellar stories that will follow readers for days, and not a single dud to weigh down the collection. John Coulthart's interior illustrations of anatomical mysteries add to the overall ambiance. Contributors include all the big names in body horror as well as some lesser-known authors, making the collection a must-have for body horror neophytes and experienced readers alike. VERDICT: This authoritative collection is a must for any library, as an introduction to body and extreme horror for readers and librarians alike. Recommend to readers who love horror stories that make their skin crawl while they read about skin literally crawling."

—Library Journal
The most terrifying thing that you can possibly imagine is your own body in the hands of a monster. Or worse, in the hands of another human being.
In these 29 tales of body horror selected by World Horror Grandmaster Ellen Datlow, you'll find the unthinkable, the shocking, and more: a couture designer preparing for an exquisitely grotesque runway show; a vengeful son seeking the parent who bred him as plasma donor; a celebrity-kink brothel that inflicts plastic surgery on sex workers; and organ-harvesting doctors who dissect a living man without anesthetic.
TABLE OF CONTENTS
Introduction by Ellen Datlow
"The Travellers Stay" by Ray Cluley
"Toother" by Terry Dowling
"Painlessness" by Kirstyn McDermott
"You Go Where It Takes You" by Nathan Ballingrud
"A Positive" by Kaaron Warren
"La beauté sans vertu" by Genevieve Valentine
"Subsumption" by Lucy Taylor
"Spar" by Kij Johnson
"It Was the Heat" by Pat Cadigan
"Atwater" by Cody Goodfellow
"The Transfer" by Edward Bryant
"Welcome to Mengele's" by Simon Bestwick
"Black Neurology: A Love Story" by Richard Kadrey
"Cuckoo" by Angela Slatter
"Cinereous" by Livia Llewellyn
"The Truth That Lies Under Skin and Meat" by Cassandra Khaw
"Natural Skin" by Alyssa Wong
"The Lake" by Tananarive Due
"I'm Always Here" by Richard Christian Matheson
"The Look" by Christopher Fowler
"The Old Women Who Were Skinned" by Carmen Maria Machado
"Spores" by Seanan McGuire
"Sweet Subtleties" by Lisa L. Hannett
"Elegy For a Suicide" by Caitlín R. Kiernan
"Skin City" by Gemma Files
"A True Friend" by Brian Evenson
"What I Found in the Shed" by Tom Johnstone
"Fabulous Beasts" by Priya Sharma
"Tissue Ablation and Variant Regeneration: A Case Report" by Michael Blumlein