With the help of the fine folks at The StoryGraph, we're giving away Josh Rountree's forthcoming debut novel THE LEGEND OF CHARLIE FISH.
A fantastic work of dark historical fiction, in the spirit of Lansdale, Gorman, Pronzini, and McMurtry.

—Brian Keene, author of the Rising series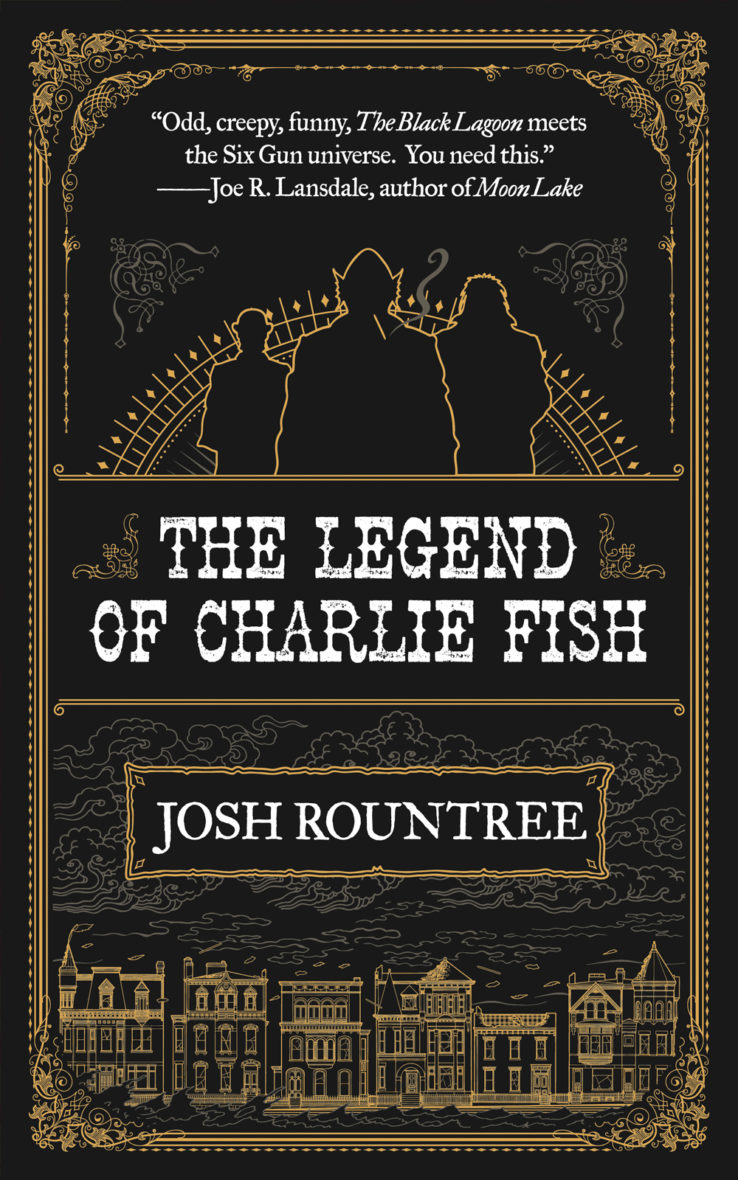 Rountree's colorful palette brings together Western and fantasy elements to create a magical tale about the deep bonds forged by circumstance.

—Library Journal

As an unlikely found-family flees toward Galveston, a psychic young girl bonds with Charlie Fish, an enigmatic gill-man. Meanwhile, they are pursued by bounty hunters determined to profit from the spectacle of Charlie. But the Great Storm—the worst natural disaster in U.S. history—is on its way. Josh Rountree's strikingly original debut novel ranges effortlessly between the Gothic, pulp, literary, Western, and comedic. With his vivid imagery, evocative storytelling, and uncanny wit, Rountree enters the fine tradition of Texan storytellers, wading into True Grit by way of The Shape of Water.
Josh Rountree knows how to spin a yarn. Great storytelling ability bringing Charlie Fish to life so I could fall in love with him. More of his adventures would be awesome! Highly recommend this to people who enjoy magic, whimsy, characters to invest in, and an emotional journey.

—Mother Horror


As always, Floyd Betts rides into town alone. He arrives for his father's funeral, but he is returning to Galveston, Texas, with two orphaned siblings he has rescued. Nellie, who is descended from a long line of witches, has visions from other people's minds. Hank, her impulsive younger brother, just wants to break out his outsized revolver.
Along the way home, Floyd, Nellie, and Hank encounter a dubious traveling salesman, Professor Finn, and his henchman, Kentucky Jim. They are struggling to capture a fish-man in order to put him on cruel display. When Nellie taps into the peril of the gentle Charlie Fish, Floyd's makeshift family expands to include the lost, two-legged amphibian.
With the circus charlatans in pursuit, ominous winds are picking up from an impending hurricane. Meanwhile, all Charlie Fish wants is to return to his home at sea.
An entertaining historical weird fantasy tale featuring a cigarette-smoking manphibian befriended by an orphaned witch girl and her gun-toting kid brother. Set in Galveston, Texas, during the deadliest hurricane to ever strike the United States, this strange self-made family not only must deal with the elements but a pair of scheming scoundrels intent on capturing Charlie as well. Author Josh Rountree knows the city of Galveston and its tragic history backwards and forwards. Recommended for those who enjoy a good 'weird western.

—Nancy A. Collins, author of Sunglasses After Dark