The beloved Jane Yolen dazzles with her latest collection, THE MIDNIGHT CIRCUS.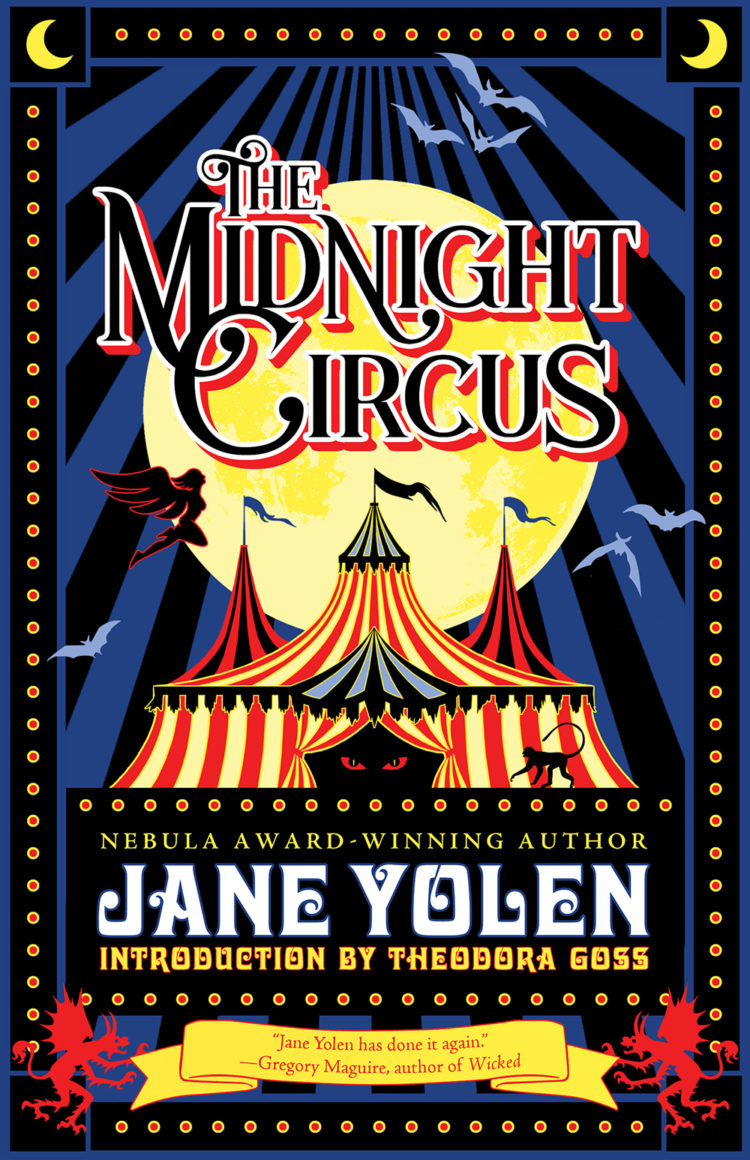 HAUNTED BY DEADLINES enjoys the collection.
THE MIDNIGHT CIRCUS is a decadent collection of immersive fairytales from a seasoned American author.

[…]

As a whole, this collection of a career's worth of successes is a celebration of an American author that is often times called a modern Hans Christian Andersen. Frankly, I think Yolen reaches far beyond tragic girls and their macabre endings.
NONSTOP READER agrees.
I enjoyed every single story in this collection; there were no weak ones. All of these have been published previously and date from the last several decades. Many of the stories are quite difficult to find and several were new to me in any form. One reason I prefer collections and anthologies is that short fiction is really challenging. It's spare and the author doesn't have a wealth of wordage to develop characters or the plotting. Well written short fiction is a delight. I also love collections because if one story doesn't really grab me, there's another story just a few pages away. I can only recall a few times where I've read a collection (or anthology) straight through from cover to cover. This one I did. I even re-read the stories which I had read before.

[…]

A worthwhile collection for Yolen fans, readers of fantasy and speculative fiction, and folks who just appreciate well written fiction. She's a master writer with a prodigious oeuvre and these are some of her best dark stories.

Five stars. Gorgeous.
As does Rebecca Herzog on SLOTH READS.
I have had my eye on THE MIDNIGHT CIRCUS for months and months and I was so excited to get a digital ARC copy. I read and reviewed both THE EMERALD CIRCUS and HOW TO FRACTURE A FAIRY TALE when they first came out and I enjoyed them both. I do believe that THE MIDNIGHT CIRCUS is my favorite of the three. Probably because I always enjoy a good dark fairy tale.

Jane Yolen is the queen of the fairy tale genre and this collection of her previously published stories had everything I have come to expect from a master storyteller. Each of these stories had a level of spookiness that I relished. There was one story in particular that unsettled me enough to get up and check on the kiddos in bed to make sure that the Redcap hadn't stolen them away.

[…]

If you're looking to read some excellent dark fantasy, definitely check out this collection.
At THE FANTASY HIVE, Jonathan Thorton completes this quartet of praise.
THE MIDNIGHT CIRCUS explores an unexpected aspect of a beloved author and reminds us why Yolen's writing means so much to us. Like Tachyon's previous anthologies of Yolen's work, THE EMERALD CIRCUS (2017) and HOW TO FRACTURE A FAIRY TALE (2018), not only does THE MIDNIGHT CIRCUS provide a strong overview of this particular aspect of Yolen's writing, it is also accompanied by Yolen's own notes on each story, plus a poem she has selected to complement each story. These notes give fascinating insight into Yolen's approach and process, and the poems show that Yolen is a first rate poet as well, highlighting the attention she pays to word choice, rhythm and imagery in her writing. As such, THE MIDNIGHT CIRCUS is essential reading for all fans of Yolen's work, especially those who are less familiar with the darker side of her imagination.