Review copies of Nicole Kornher-Stace's deviously creative romp FLIGHT & ANCHOR are now available via EDELWEISS and NETGALLEY.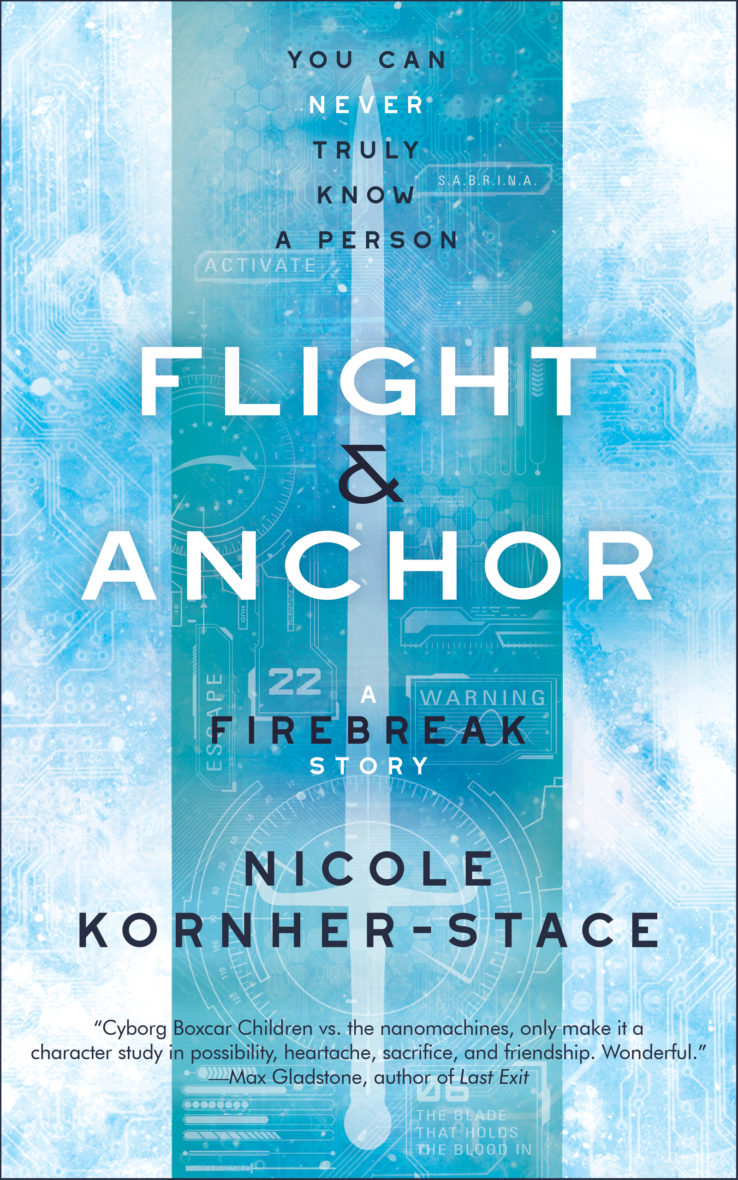 Kornher-Stace masterfully weaves a deviously creative romp that is somehow both nail-bitingly suspenseful and tenderly cozy, as if the authors of How to Win the Time War had decided to set The Boxcar Children in Snow Crash's tongue-in-cheek hyper-capitalist dystopia.

Maria Dong, author of Liar, Dreamer, Thief

by
Nicole Kornher-Stace
ISBN: Trade paperback: 978-1-61696-392-7; Digital: 978-1-61696-393-4
Published: June 2023
Available Format(s): Trade paperback and digital formats
From the world of the breakout novel Firebreak, an exciting new adventure of corporate corruption, dangerous flight, and uncertain loyalty. After a daring escape from a prison lab, two young, modified soldiers arrive in a freezing-cold city where they have no resources. With time running out, a sinister handler pitting the two operatives against each other will be the biggest threat to their mutual survival.
Cyborg Boxcar Children vs. the nanomachines, only make it a character study in possibility, heartache, sacrifice, and friendship. Wonderful.

—Max Gladstone, author of Last Exit
Young SecOps operatives 06 and 22 were about to be sent out for their first military engagement. Just a few years earlier, they were child refugees of a corporate civil war; Stellaxis modified them into supersoldiers. But 06 and 22 have escaped their prison barracks and entered a city they can barely remember. In the dead of winter, they sleep in an abandoned shipping container and scavenge for resources.
The Director of the Stellaxis supersoldier program knows that 06 and 22 are gone, where they are, and that she has no easy way of retrieving them. The Director also knows that if she sends anyone after them, there will be a bloodbath—or at least a great deal of bad press. But all operatives' days are numbered. 06 and 22 must make a terrible choice: their freedom or each other.
Nicole Kornher-Stace's FLIGHT & ANCHOR pulls you along with the speed of a dystopian freight train. Taking the weaponized childhoods of kids like Ender and blending in a touch of Hanna-style rebellion against the mother organization, Kornher-Stace draws you into a story not only of survival but of calculated surrender to drive the best possible outcome. FLIGHT & ANCHOR gives us kids who, despite their superpowers and their upbringing's best efforts, are still believably constrained by their inexperience. Kornher-Stage continues to be an author to watch, and this latest work is a solid addition.

Kimberly Unger, author of Nucleation