Nicole Kornher-Stace's FLIGHT & ANCHOR, the eagerly anticipated new story set in her popular Firebreak universe, officially pubs today and is now available from all finer booksellers.
Kornher-Stace masterfully weaves a deviously creative romp that is somehow both nail-bitingly suspenseful and tenderly cozy, as if the authors of How to Win the Time War had decided to set The Boxcar Children in Snow Crash's tongue-in-cheek hyper-capitalist dystopia. FLIGHT & ANCHOR is a stunning achievement, one that hauls on the heartstrings as it tickles the brain with the effervescent prose of a Beat master, sure to bust through even the toughest reading slump—though I definitely expect no less from this must-buy author.

—Maria Dong, author of Liar, Dreamer, Thief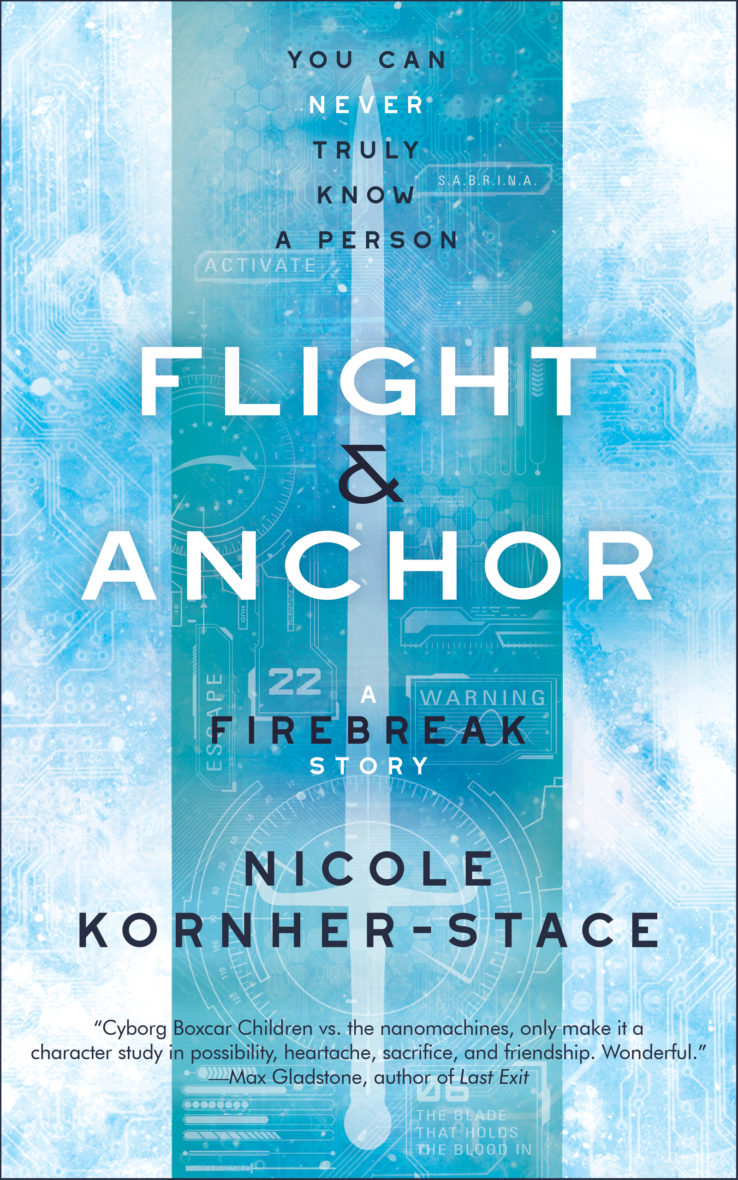 FLIGHT & ANCHOR: what a feat of adrenaline, friendship, loyalty, fraught circumstance, and fun! Nicole Kornher-Stace deftly—exquisitely—balances the lightness of classic runaway-child books (Boxcar Children! From the Mixed-Up Files of Mrs. Basil E. Frankweiler!) with the savagery of survival-in-the-wilderness books (Hatchet! Robinson Crusoe!) to entertaining and harrowing effect. This is a great gateway into the NK-S.verse for the first-time reader (warning: it will make you want to pick up Jillian Vs Parasite Planet—like, now—to get more of a certain nanorobotic AI 'probe array' character, who is just the best), and will also be an absolute delight to avid, rabid fans.

—C. S. E. Cooney, author of Saint Death's Daughter

From the world of the breakout novel Firebreak, an exciting new adventure of corporate corruption, hazardous flight, and divided loyalties. After a daring escape from a prison lab, two young, modified soldiers arrive in a freezing-cold city where they have no resources. With time running out, a sinister handler pitting the operatives against each other will be the biggest threat to their mutual survival.
Cyborg Boxcar Children vs. the nanomachines, only make it a character study in possibility, heartache, sacrifice, and friendship. Wonderful.

—Max Gladstone, author of Last Exit

Young SecOps operatives 06 and 22 were about to be sent out for their first military engagement. Just a few years earlier, they were child refugees of a corporate civil war; Stellaxis modified them into supersoldiers. But 06 and 22 have escaped their prison barracks and entered a city they can barely remember. In the dead of winter, they sleep in an abandoned shipping container and scavenge for resources.
The Director of the Stellaxis supersoldier program knows that 06 and 22 are gone, where they are, and that she has no easy way of retrieving them. The Director also knows that if she sends anyone after them, there will be a bloodbath—or at least a great deal of bad press. But all operatives' days are numbered. 06 and 22 must make a terrible choice: their freedom or each other.
Nicole Kornher-Stace's FLIGHT & ANCHOR pulls you along with the speed of a dystopian freight train. Taking the weaponized childhoods of kids like Ender and blending in a touch of Hanna-style rebellion against the mother organization, Kornher-Stace draws you into a story not only of survival but of calculated surrender to drive the best possible outcome. FLIGHT & ANCHOR gives us kids who, despite their superpowers and their upbringing's best efforts, are still believably constrained by their inexperience. Kornher-Stace continues to be an author to watch, and this latest work is a solid addition.

—Kimberly Unger, author of the Philip K. Dick Award winner Extractionist
A terrific entry point into this compelling, corrupt, dystopian world, with a story about the forging of unbreakable bonds set against harrowing adventure, heartrending choices, and traumatic consequences.

—Library Journal
Kornher-Stace finds a perfect balance between human childhood and otherworldliness by making us fall for the myth and propaganda surrounding 06 and 22 while also making them deeply human, if only deep down. A burning ember of humanity in the midst of overwhelming propaganda.

—Bookish Brew's Reviews


The classic scenario of The Boxcar Children gets a cybernetic anti-corporate upgrade in Nicole Kornher-Stace's FLIGHT & ANCHOR. We join twelve-year old super-soldier operatives and inseparable BFFs 06 and 22, years before they'll inspire a people's rebellion in Firebreak, centuries before their exploits will influence the post-apocalyptic Archivist Wasp. On the lam from the cruel program that created them, they're capable of astonishing feats of heroism and destruction, but they're also lost kids who only have each other to rely on. Kornher-Stace's nail-biting novella, full of Easter eggs for fans of her expanding universe, keeps us grounded in stakes that are both world-shattering and movingly human.

—Mike Allen, Shirley Jackson Award-nominated author of Aftermath of an Industrial Accident