Praise keeps coming for Kameron Hurley's MEET ME IN THE FUTURE.
Kameron Hurley has a REDDIT r/books AMA on Monday, September 30, 2019 • 11:00 EST

At BOOK RIOT, Michelle Anne Schingler's 5 Fantastic Speculative Fiction Titles for Fall includes the collection.
Hurley's stories are a revelation; they've garnered high praise from
every reviewer who's encountered them. Sidle up to her scintillating
perspectives and allow your mind to bounce unhindered among the stars.
PAT'S FANTASY HOTLIST enjoys the book.
The best aspect of MEET ME IN THE FUTURE is that it showcases the
length and breadth of Kameron Hurley's fertile and unconventional
imagination. If you have yet to give the author a shot, this collection
of short stories is the perfect opportunity to remedy that sad state of
affairs. 
STRANGE ALLIANCES is fascinated.
There were certainly echoes of other writing of Hurley's, such as APOCALYPSE NYX and, more recently, The Light Brigade where
the character keeps time shifting and experiencing the results in the
present. But this feels more as if you can, as a writer, sense what it
is like to gather up ideas, playing with them in one context with the
potential for transferring them to another. Or trying out complex
concepts and scenarios in the short form where they can be more easily
tracked, then going on to craft them anew for a much more sustained
work. This makes MEET ME IN THE FUTURE forensically intriguing and enlightening for any writer, no matter what the genre.
Over a year and half since it's publication, APOCALYPSE NYX continues to garner positive reviews.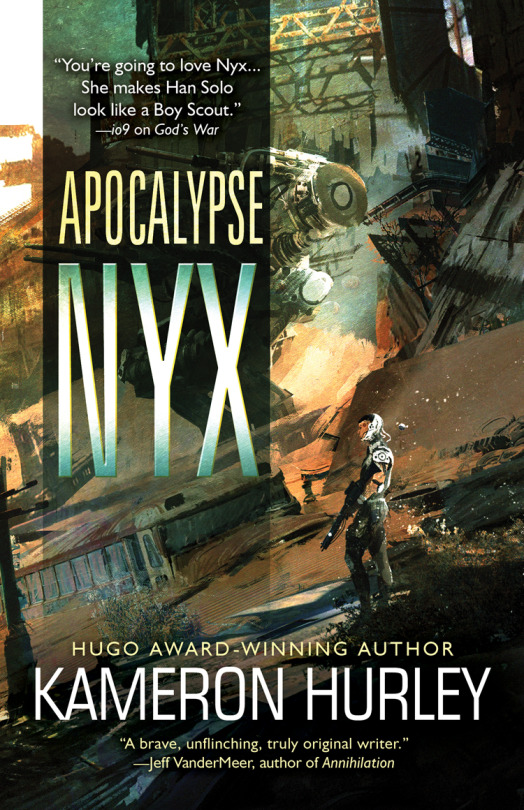 Callum McSorley for SHORELINE OF INFINITY praises the collection.
APOCALYPSE NYX is a gory, sweary, action-packed adventure that
rips along at top speed. Hurley drops the reader straight into her world
– a matriarchal, Islam-inspired society where technology is reliant
upon bugs and insects with magical properties – without any
hand-holding, and the book is all the better for it. There's no
info-dumping or awkward exposition – characters don't require things
they should already know be explained to them for the benefit of the
reader.
LOOKING GLASS READS likes the book.
APOCALYPSE NYX by Kameron Hurley is a great collection of short stories and good companion to the other books within the series.
For info on MEET ME IN THE FUTURE, visit the Tachyon page.
Cover by Carl Sutton
Design by Elizabeth Story
For more info on APOCALYPSE NYX, visit the Tachyon page.
Cover by Wadim Kashin
Design by Elizabeth Story