With the help of the fine folks at GOODREADS, we're giving away the revolutionary Tobias S. Buckell's A STRANGER IN THE CITADEL.
Buckell's writing always satisfies, and A STRANGER IN THE CITADEL brings it: tense, explosive oh-my-god-what-will-they-do-now action; appealing characters you care about, even when you deplore what they do; rich, surprising worldbuilding; a fascinating story of words and the people who guard them. Gotta love hero librarians, especially in times like these. Gotta love clever metatextual references. Gotta love the youth-dem determined to fix the world, naivete be damned.

—Nalo Hopkinson, author of Falling in Love with Hominids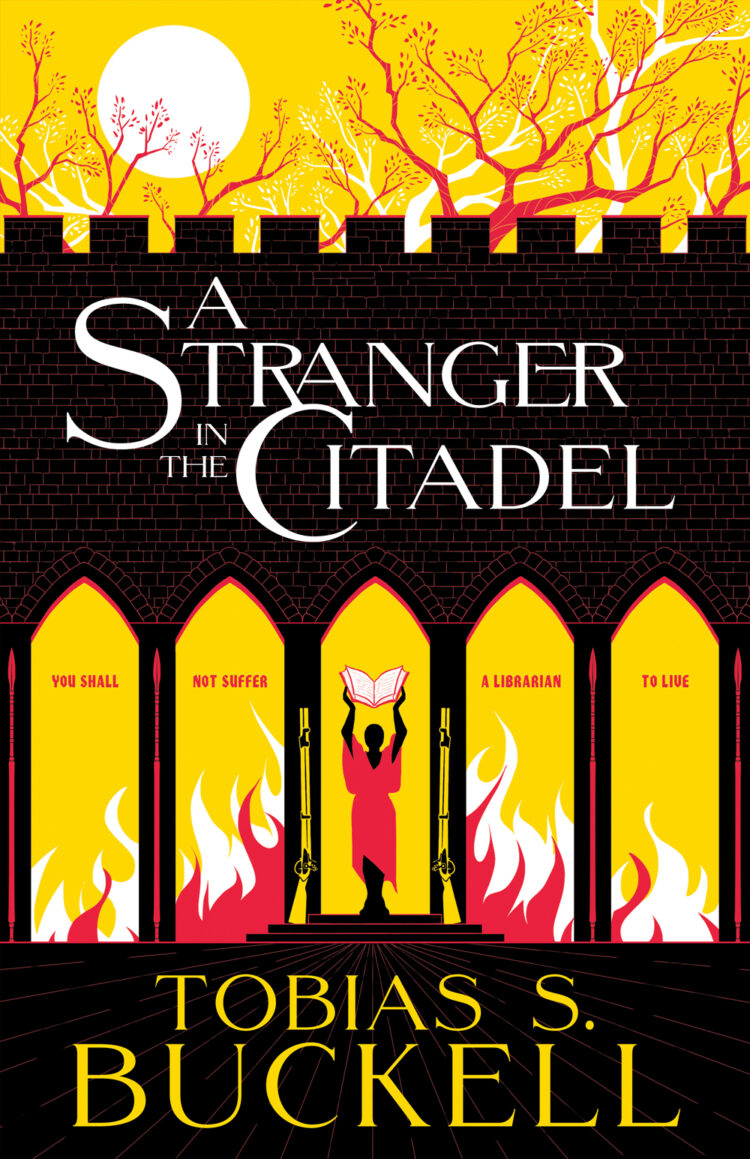 A STRANGER IN THE CITADEL is a powerful story that explores the strength of the written word and those who fear it. Tobias Buckell has crafted a disturbing and page-turning tale of banned books, outlaw librarians, killer angels, and world changing secrets—set in a far flung dystopian future that chillingly resonates with our present.

—P. Djèlí Clark, author of Ring Shout


From powerful storyteller Tobias Buckell (Crystal Rain, The Tangled Lands), a complex novel of humanity's passion for the written word. At the revolutionary crossroads of magic, betrayal, and long-forgotten truths, a naïve, compassionate royal and a determined, hunted librarian discover a dangerous world of mortal and ancient menaces.
With A STRANGER IN THE CITADEL, Tobias Buckell writes to the moment we live in, with a clarity and urgency that only fable can provide. Read it.

—John Scalzi, author of The Kaiju Preservation Society


The life of the youngest musketress of Ninetha has been one of hard training. But Lilith's days have also contained many pleasures, the royal privileges of her family's guardianship of the Cornucopia, a mystical source of limitless bounty. Lilith has never seen a book, and she never expects to encounter one within the safety of the citadel.
When Ishmael, an outcast librarian, shows up outside the Afriq Gate, Lilith saves him from immediate execution by her father's second-in-command, the zealot Kira. As Lilith's curiosity draws her to Ishmael, she lets slip her family's most dangerous secret to Kira, sparking a deadly rebellion and an unexpected journey full of stunning revelations.
[STARRED REVIEW] Buckell's latest (after The Tangled Lands, 2018, with Paolo Bacigalupi) begins by deceiving readers, presenting a postapocalyptic setting as fantasy, gradually dropping clues to the reader relating to our current world. Protagonist and narrator Lilith, the youngest musketress of Ninetha, privileged with guardianship of the mystical Cornucopia which provides for all of the city's needs, is equally unaware of her world's history, largely because books and reading were banned in exchange for the Cornucopias. When a librarian, Ishmael, stumbles into Ninetha as the first visitor in a generation, Lilith's actions to defend him ripple into the destruction of her home and family by her own mentor, Kira, who was offended by the family's heresy of secretly owning a single book and hoarding the provisions from the Cornucopia. When Lilith flees Ninetha with Ishmael, she discovers how sheltered her worldview was as he shares tales of his travels and his love of learning. Inspired by Fahrenheit 451, Buckell masterfully crafts this coming-of-age story for a strong, compassionate heroine who needed a bit of reality thrust upon her.

—Booklist