With the help of the fine folks at GOODREADS, we're giving away a copy of the fearless visionary Sam J. Miller's atmospheric and unique collection BOYS, BEASTS & MEN.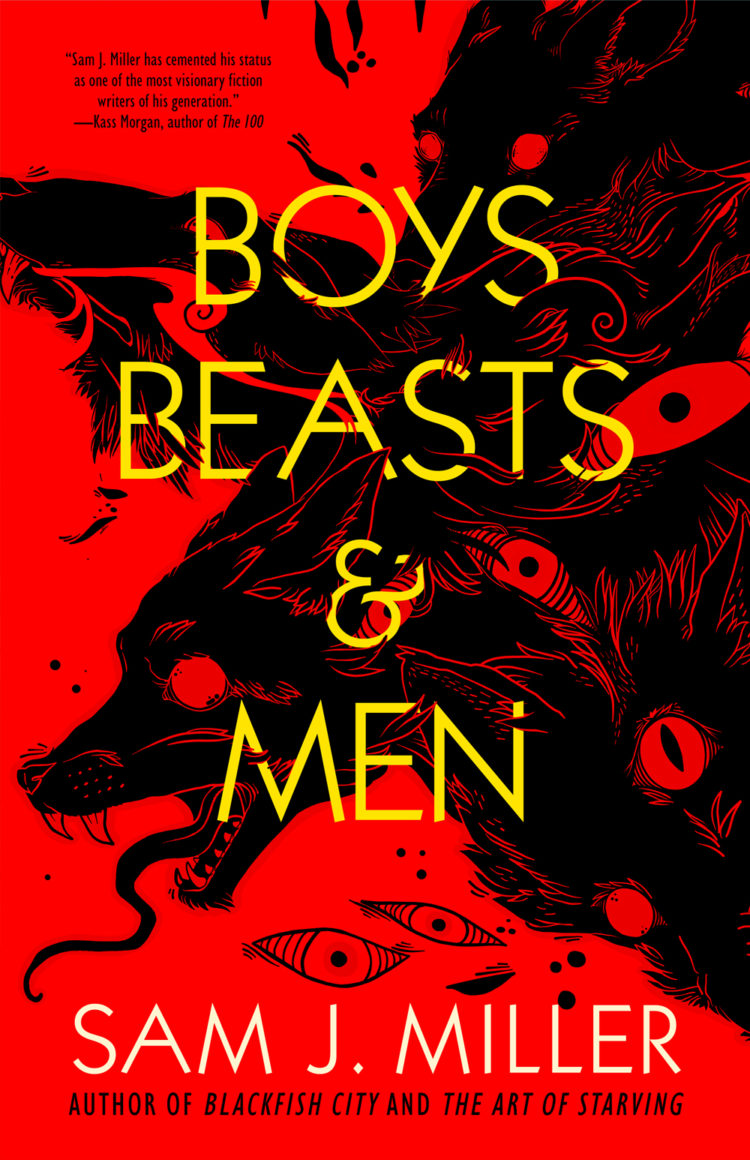 Sam Miller is my hero: a fearless visionary whose stories are at once vivid, electrifying, brutal, and full of heart. Oh, the heat of them.

—Sarah Pinsker, author of A Song For A New Day and Sooner or Later Everything Falls Into the Sea
In Nebula Award-winning author Sam J. Miller's devastating debut short-fiction collection, featuring an introduction by Amal El-Mohtar, queer infatuation, inevitable heartbreak, and brutal revenge seamlessly intertwine. Whether innocent, guilty, or not even human, the beings in Miller's gorgeously crafted worlds can destroy readers, yet leave them wanting more.
[STARRED REVIEW] Finding danger and humanity in their characters, the short stories of Boys, Beasts & Men marry emotional epiphanies with violence, resulting in imaginative, stirring meditations on LGBTQ+ struggles and acceptance.

—Foreword
Despite his ability to control the ambient digital cloud, a foster teen falls for a clever con-man. Luring bullies to a quarry, a boy takes clearly enumerated revenge through unnatural powers of suggestion. In the aftermath of a shapeshifting alien invasion, a survivor fears that he brought something out of the Arctic to infect the rest of the world. A rebellious group of queer artists create a new identity that transcends even the anonymity of death.
Sam J. Miller (Blackfish City, The Art of Starving) shows his savage wit, unrelenting candor, and lush imagery in this essential career retrospective collection, taking his place alongside legends of the short-fiction form such as Carmen Maria Machado, Carson McCullers, and Jeff VanderMeer.
Miller's sheer talent shines through in abundance . . . Boys, Beasts & Men is an outrageous journey which skillfully blends genres and will haunt you with its original, poetic voices as much as its victims, villains, and treasure trove of leading actors.

—Grimdark Magazine
TABLE OF CONTENTS
Introduction by Amal El-Mohtar
Allosaurus Burgers
57 Reasons for the Slate Quarry Suicides
We Are the Cloud
Conspicuous Plumage
Shattered Sidewalks of the Human Heart
Shucked
The Beasts We Want to Be
Calved
When Your Child Strays from God
Things With Beards
Ghosts of Home
The Heat of Us: Notes Toward an Oral History
Angel, Monster, Man
Sun in an Empty Room
A collection of short stories that are each so atmospheric and unique, it really just blends together to form a sort of queer, magic, horror, science fiction and amazing storytelling picture. Each story is so fascinating and creates about a mood that just captures you.

—Ash and Books