"Born for Trouble"—well, you can say that again. Hap and Leonard are a raucous, daredevil duo with more lives each than the proverbial cat, and really, thank goodness for that. Their adventures are a pleasure to follow, the hijinks and shenanigans anchored by the warmth of camaraderie and a steady flow of excellent jokes."

—Stephanie Cha, author of Your House Will Pay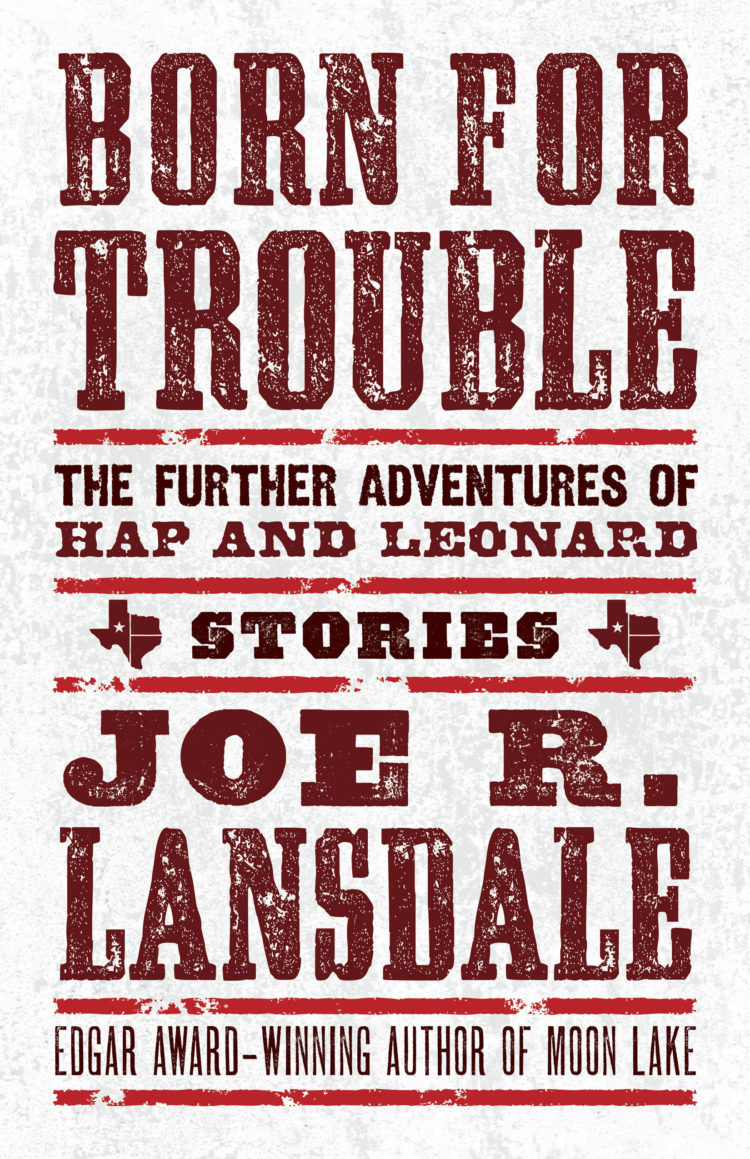 Sad Onions
by
Joe R. Lansdale
Me and Leonard were cruising back from a fishing trip.
We'd been at a cabin Leonard's boyfriend, Pookie, owned on the lake. Pookie couldn't make it, but we had the key, and we spent a partial day and a lot of the night sitting in lawn chairs on the cabin's deck where it over-hung the water, sitting with big glasses of iced tea, now and again casting our fishing lines, hiding during the day under the shadows of our wide-brimmed straw hats, pushing them back on our foreheads at night to feel the cool breeze blowing off the lake, rippling the dark water.
We caught four fish and threw them all back. Those fish would have stories to tell. Hope word didn't get back to Aquaman. Things might turn nasty.
Of course, the trip wasn't about fishing, it was about me and Leonard hanging, without distractions, talking. We had been through the mill as of late, and some time off was doing us good, and it probably wasn't hurting my wife's feelings either. She and my daughter were spending a day doing pretty much the same thing Leonard and I were doing, minus the fish.
Now it was over and it was deep night, and I was driving us home. The moon was a silver slice. Shadows hung from the trees on either side of the narrow road like crepe paper at a funeral. We were fifty or sixty miles from home. I was driving Leonard's pickup and he was dozing on the passenger side. There were a lot of curves in the road and the headlights danced around the curves. I wasn't driving real fast, but I wasn't messing around either. I was ready to be home and in my own bed with Brett.
The road straightened out finally, rose up a hill where the trees were thick on my left and thin on my right. As the truck's headlights topped the hill a woman showed up in my lane, waving her hands.
I swerved and crossed into the left lane, wheeled around her, found the right lane again, skidded to a tooth-rattling stop that nearly sent me off the edge of the road, where I would have bumped over a short drop of weeds and rocks, and possibly would have fetched up against a barbed-wire fence. If the fence snapped, they might have found us and the pickup wearing a couple of cows.
Leonard came awake with a shout, looked at me. I didn't say anything. I got out of the truck and rushed back to where the woman stood in the road wringing her hands, crying and yelling, "He's down there."
She was pale of skin, had her blonde hair up in a pile. Strands of it had slipped loose and had fallen across her face like leaking vanilla. By moonlight, and I assumed by any light, she had a very nice face. She was carrying a white purse. It was draped over her shoulder by a long strap. She was wearing an expensive looking white dress and had on a silver necklace and matching double bracelets on both wrists; they clattered together like the wagging tail of a rattlesnake. She wasn't wearing any shoes.
By that time Leonard was with us. His black skin looked like sweat-wet chocolate in the bright moonlight. It was that kind of weather, even late at night.
I said, "I'm going down for a look."
"I'll get her out of the road," Leonard said. "Come on, lady."
Leonard gently touched her arm, guided her toward his pickup. I watched them go away, him walking slow, her balancing on her naked toes like a ballerina, trying to put as little of her foot on the blacktop as she could manage.
I went down the hill. I could see a white Lincoln at the bottom of it. A ridge of trees stood in front of it, and between the trees I could see the barbed-wire fence that ran behind them. The car was mashed up primarily against a sweetgum tree, though part of an oak had got into the act. White smoke was hissing out from under the hood. The windshield was shattered, but still in place, the front of the Lincoln was as crumpled as an accordion.