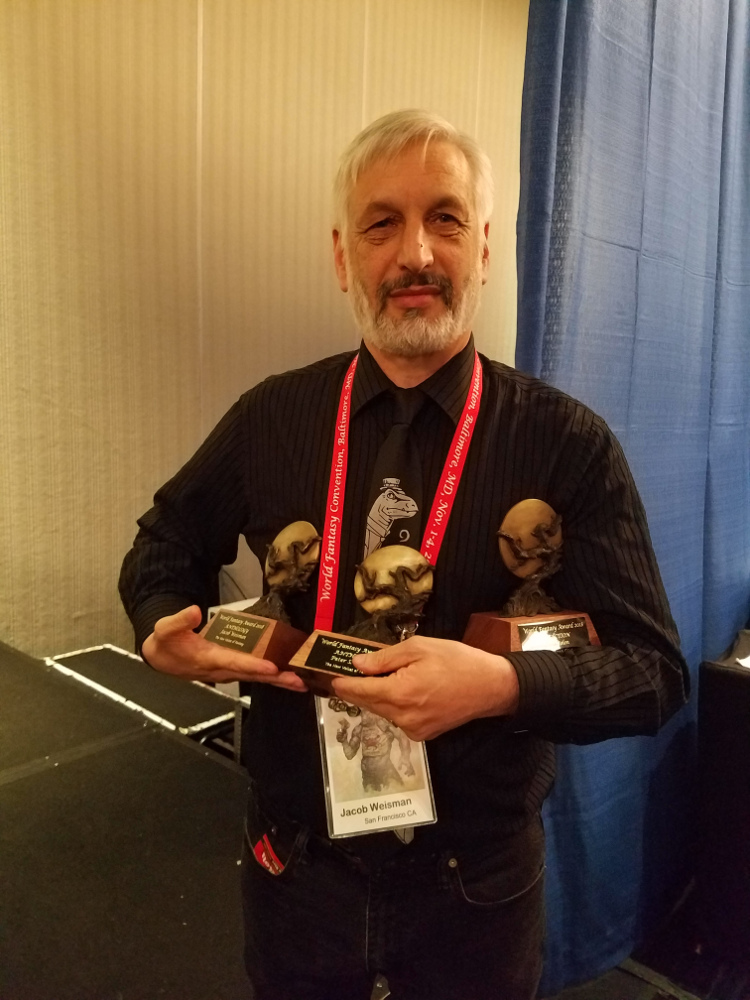 Writer, editor, and publisher Jacob Weisman founded Tachyon Publications in 1995. Originally the goal was to bring back the old masters who were out of print, as evident by Clifford Simak and Mary Shelley collections and novels by Stanley Weinbaum and Robert Nathan. Tachyon published 2-3 titles a year and only sold to specialty bookstores. In 2003, Weisman decided to "start the company over from scratch." He wisely hired Managing Editor Jill Roberts, secured distribution that brought Tachyon books to mainstream bookstores, and expanded the line to 8-10 books a year. The Tachyon titles have won Nebula, Hugo, World Fantasy, Shirley Jackson, Theodore Sturgeon, John W. Campbell, Neukom Institute Literary Arts, Mythopoeic, and Locus awards. Weisman, himself, garnered World Fantasy Award nominations in 1999, 2009, 2010 and winning the 2018 Best Anthology Award for THE NEW VOICES IN FANTASY (2017 with Peter S. Beagle).
While Weisman oversees all of Tachyon books, he was directly responsible for several anthologies including THE TREASURY OF THE FANTASTIC (2001 with David Sandner), THE SWORD & SORCERY ANTHOLOGY (2012 with David Hartwell), INVADERS: 22 TALES FROM THE OUTER LIMITS OF LITERATURE (2016), the above mentioned THE NEW VOICES IN FANTASY, THE UNICORN ANTHOLOGY (2019 with Beagle), and THE NEW VOICES OF SCIENCE FICTION (2019 with Hannu Rajaniemi).
Prior to Tachyon, Weisman edited and published 14 issues of the quarterly fantasy magazine The Thirteenth Moon and worked for the Seattle SuperSonics. His writings have appeared in The Nation, Realms of Fantasy, The Louisville Courier-Journal, The Seattle Weekly, The Cooper Point Journal, Field of Fantasies, and in the college textbook, Sport in Contemporary Society. He's responsible (alongside David Sandner) for the acclaimed novelette Mingus Fingers (2019).
Everyone at Tachyon wishes the extraordinary Jacob a happy birthday. And not just because we're told to.