The latest reviews and mentions of Tachyon titles and authors from around the web
Paul Di Filippo, in a LOCUS review of In the Shadows of Men by Robert Jackson Bennett and Dispersion by Greg Egan, gives a shout out to Tachyon Publications.
Tachyon Publications. PS Publishing. NewCon Press. Subterranean Press. Four always reliable and stout bastions of the novella, that in-between-lengths type of fiction that offers the advantages of the short story (quickish reading time and lesser investment) and the advantages of the novel (space for complexity and depth). Win-win, for writers, readers, and publishers!
For MYTHAXIS, Jay Caselberg interviews Bruce Sterling.
JC: I am quite interested in the connections between the Shaper/Mechanist universe and Cyberpunk as a concept, the clashing or joining of the biological and machine. Do you believe we have a future where that melding becomes more real? Of course, I am talking about more than a pig with a chip in its head.

BS: That's a big metaphysical topic, and, like a lot of metaphysical topics, it tends to bog down in the tall weeds of reality. For instance, being on stage as part of the Kraftwerk "Man/Machine" is actually less interesting and culturally influential than being Ralf Hutter or Florian "V-2" Schneider. In other words, it's a cool creative schtick, but if it becomes a personal cult religion, you've got a problem.

With that said, I'm currently very interested indeed in robots that are "soft," meaning machines that have some degree of autonomy and that aren't traditionally metallic or "mechanical." That's not a Shaper/Mechanist issue from a novel, but is an issue about boundaries of machinery and biology; it's even about beauty; there's an aesthetics to robotic motion that interests me as an art critic.

My latest book — my Bruno Argento short-story collection — is titled ROBOT ARTISTS AND BLACK SWANS, and it indeed seems to have rather a lot of robot artists that turn out to be black swans — just, boundary-breaking, culture-crossing, animated, liminal, kinetic things that are beyond prediction and also beautiful.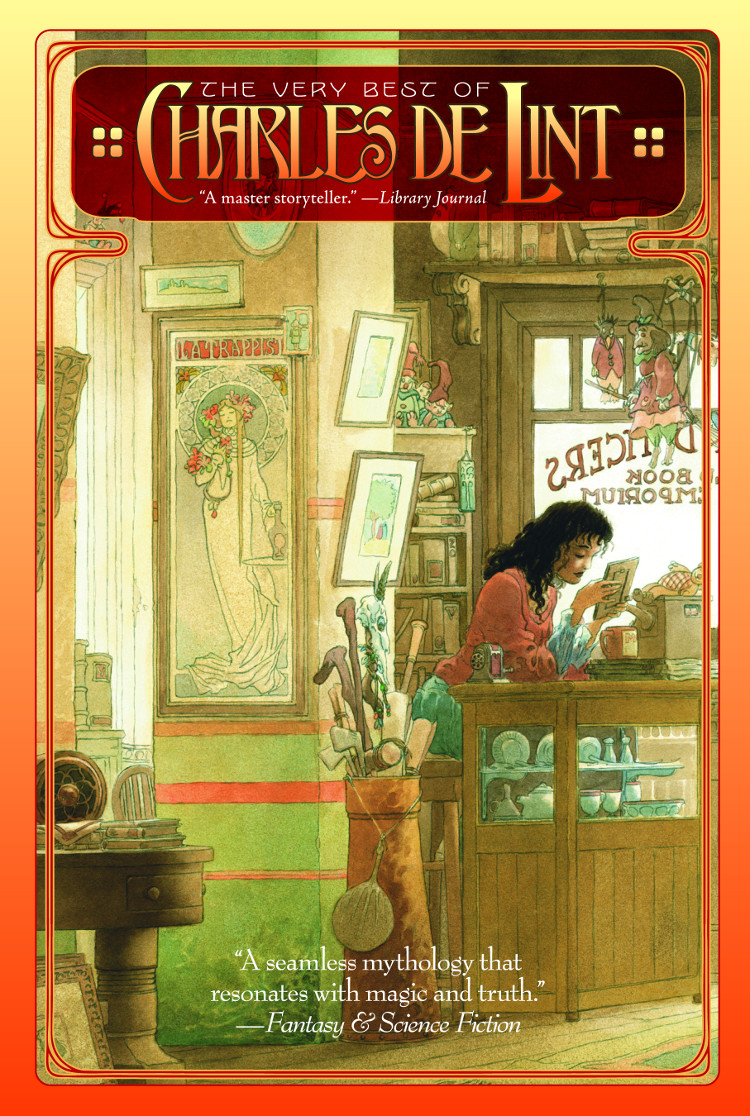 At REDDIT r/fantasy. FarragutCircle includes THE VERY BEST OF CHARLES DE LINT among their 2020 Bingo Challenge: Short Story Edition.
20. Novel by a Canadian Author:

THE VERY BEST OF CHARLES DE LINT by Charles de Lint (reprint collection)

Reason: It appears I picked this up in 2014 for some reason (I've never read de Lint before this year). But he's Canadian!

Favorite Story: There are honestly too many to say, but I'll say "In the Pines" for now.

Recommended: Yes, yes, yes. I basically added everything he's written to my TBR.

Hard Mode: Maybe, it was originally published in 2010 with Tachyon Publications, but in 2014 it was reprinted by de Lint's Triskell Press (which is the copy I have), which would count.

Other Options: A friend sent me an anthology edited by Dominik Parisien called Clockwork Canada: Steampunk Fiction, though I would've had to juggle square to get it to work. Nalo Hopkinson is Canadian, so Skin Folk would've worked, too. Jo Walton has a collection called STARLINGS.
K.W. Colyard on BOOK RIOT includes Nalo Hopkinson's Skin Folk among Horror Short Story Collections: 9 Books to Maximize Your Chills and Thrills.
Jamaican Canadian author Nalo Hopkinson has published a few excellent collections of short fiction. If you're looking for horror, though, I recommend checking out her 2001 collection Skin Folk. Among these 15 dark fables, you'll find the story of a skinless woman who kills and consumes children. Don't say I didn't warn you.
Johanna Rupprecht shares their beautiful concept designs for a game based on Brandon Sanderson's THE EMPEROR'S SOUL.
Visual Development Project based on Brandon Sanderson's novella THE EMPEROR'S SOUL.
Based on an Asian-inspired fantasy setting, we follow the story of Shai, a so called "forger" with the magical ability to change an object's appearance and history by applying a "soul stamp" to it.

Huge Thanks goes to Yen Shu Liao, who helped me throughout this project with making sure I don't mess up the "Asian" (more particular, Taiwanese) inspiration too much, and also helped me out with Chinese search words when English & dictionaries failed me. Thank you!