Jacob Weisman, Guest of Honor Tad Williams, Marie Brennan, Ellen Datlow, Sheila Finch, Daryl Gregory, Max Gladstone, Eileen Gunn, Nina Kiriki Hoffman, Ellen Klages,
S. Qiouyi Lu, Susan Palwick, David Sandner, and Gordon Van Gelder are scheduled to appear at the 2019 World Fantasy Convention in Los Angeles, CA October 31-November 3.
The legendary event, held annually since 1975, showcases the
fantastic in literature and art. This years convention features Guests
of Honor Tad Williams, Reiko Murakami, Sheree Renée Thomas, Margo Lanagan, Beth Meachum and Toastmaster Robert Silverberg.

Tachyon publisher Jacob Weisman enjoys two book launches at the con. The bold sequel to World Fantasy Award-winning THE NEW VOICES OF FANTASY,  THE NEW VOICES OF SCIENCE FICTION (co-edited with Hannu Rajaniemi) premieres as does his Fairwood Press novelette Mingus Fingers (written with David Sandner).

While Tachyon won't have their table, several Tachyon authors will be appearing at the Fairwood Press table.
Jacob Weisman and S. Qiouyi Lu Friday 2 pm
Susan Palwick  Friday 3 pm
David Sandner and Jacob Weisman Saturday 3 pm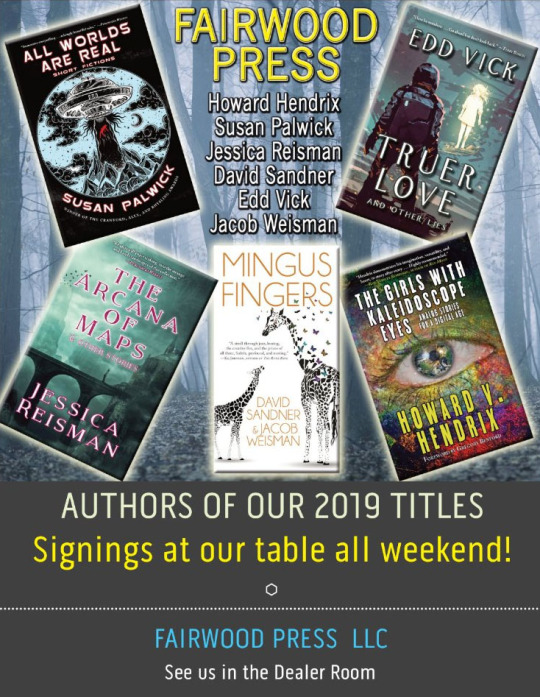 The World Fantasy Convention offers a massive selection of readings,
signings, and panels. To find any of these authors, check out the entire
schedule on their site.

For more info on THE VERY BEST OF TAD WILLIAMS, visit the Tachyon page.
Cover by Kerem Beyit
Design by Elizabeth Story
For more info about THE NEW VOICES OF SCIENCE FICTION, visit the Tachyon page.
Cover art by Matt Dixon
Cover design by Elizabeth Story